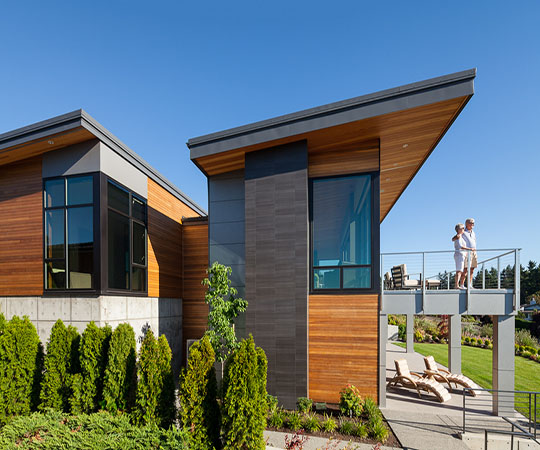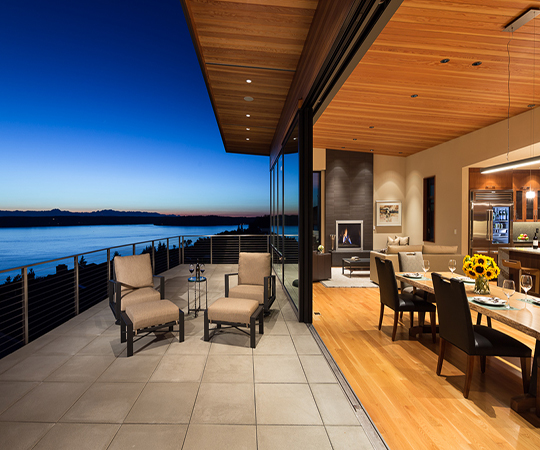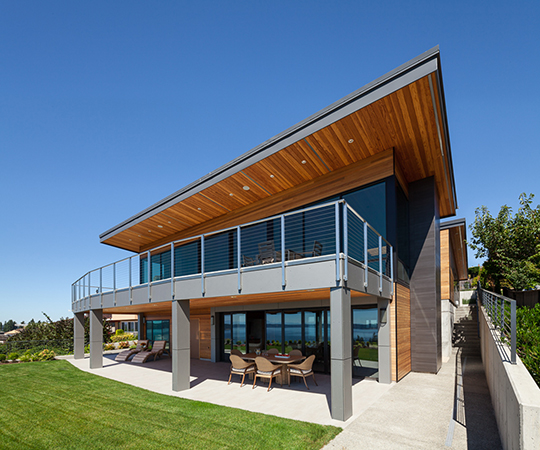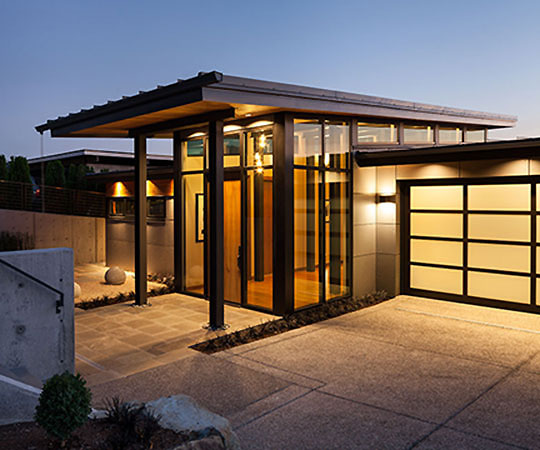 This home was located within an established residential neighborhood in Browns Point, Washington.  The site had a large grade differential from one end to the other.  By strategically placing the new home high on the upper most part of the grade,  it provided a great overlook towards views towards the Puget Sound and the Olympic Mountains.
 In order to preserve views, the neighborhood home owners association had a restrictive 10 feet high maximum building height on the uppermost portion of the site.   This resulted in the home having to provide concrete retaining walls on to lower the first floor plan to drop below this height restriction.
The home's design concept was the idea of having two individual simple forms with shed roofs that would be connected by a bridging element. One house sybmpolically represented the social public spaces and the other house represented the private spaces. This bridging element provided both a separation and a connection between the two houses.  This reveal allowed for more natural light to penetrate the ceter of the home.  By creating a shallow social house that was narrow in width, it allowed the space to take advantage of natural cross ventilation and balanced day lighting.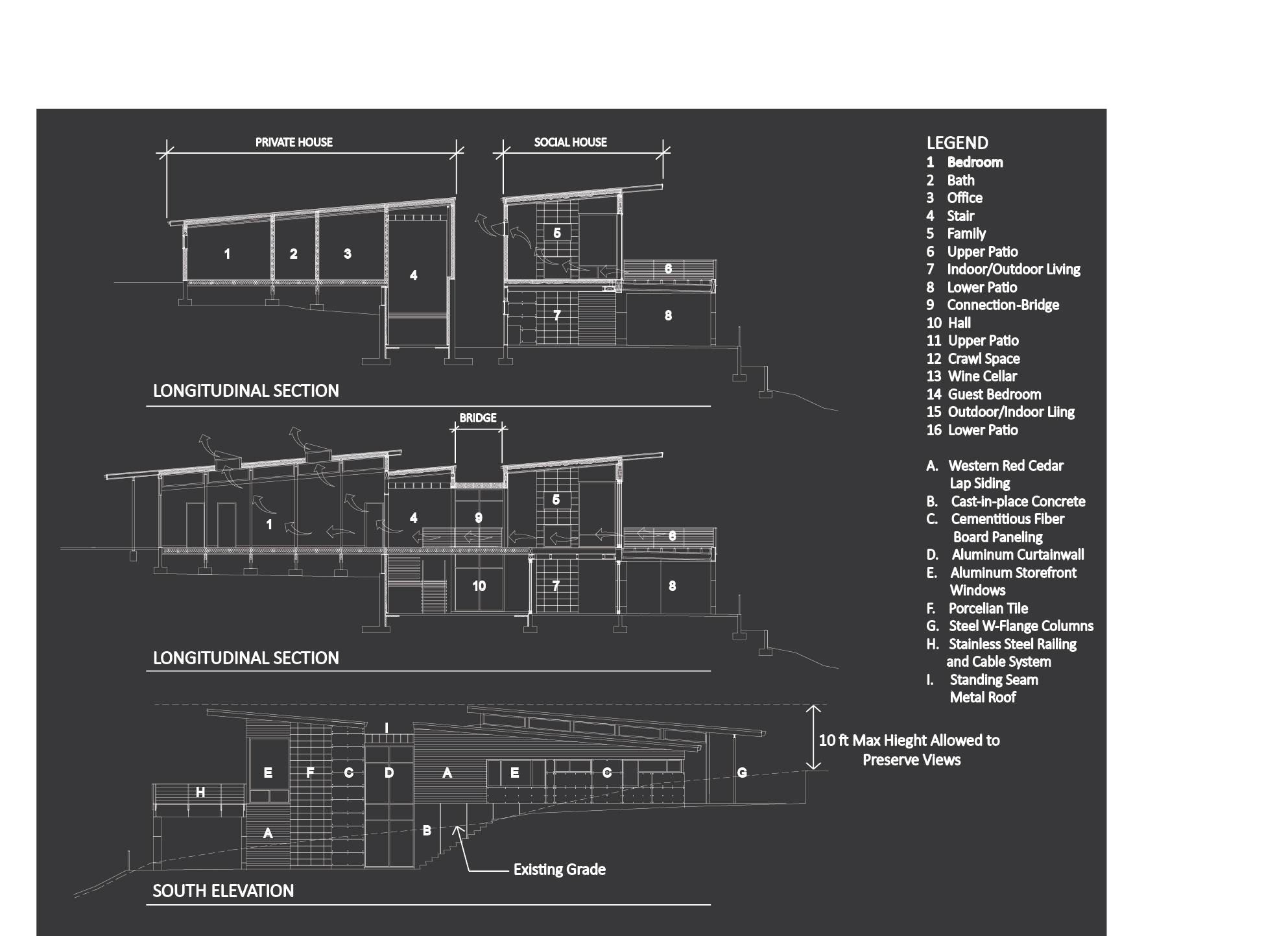 BUILDING SECTIONS AND ELEVATIONS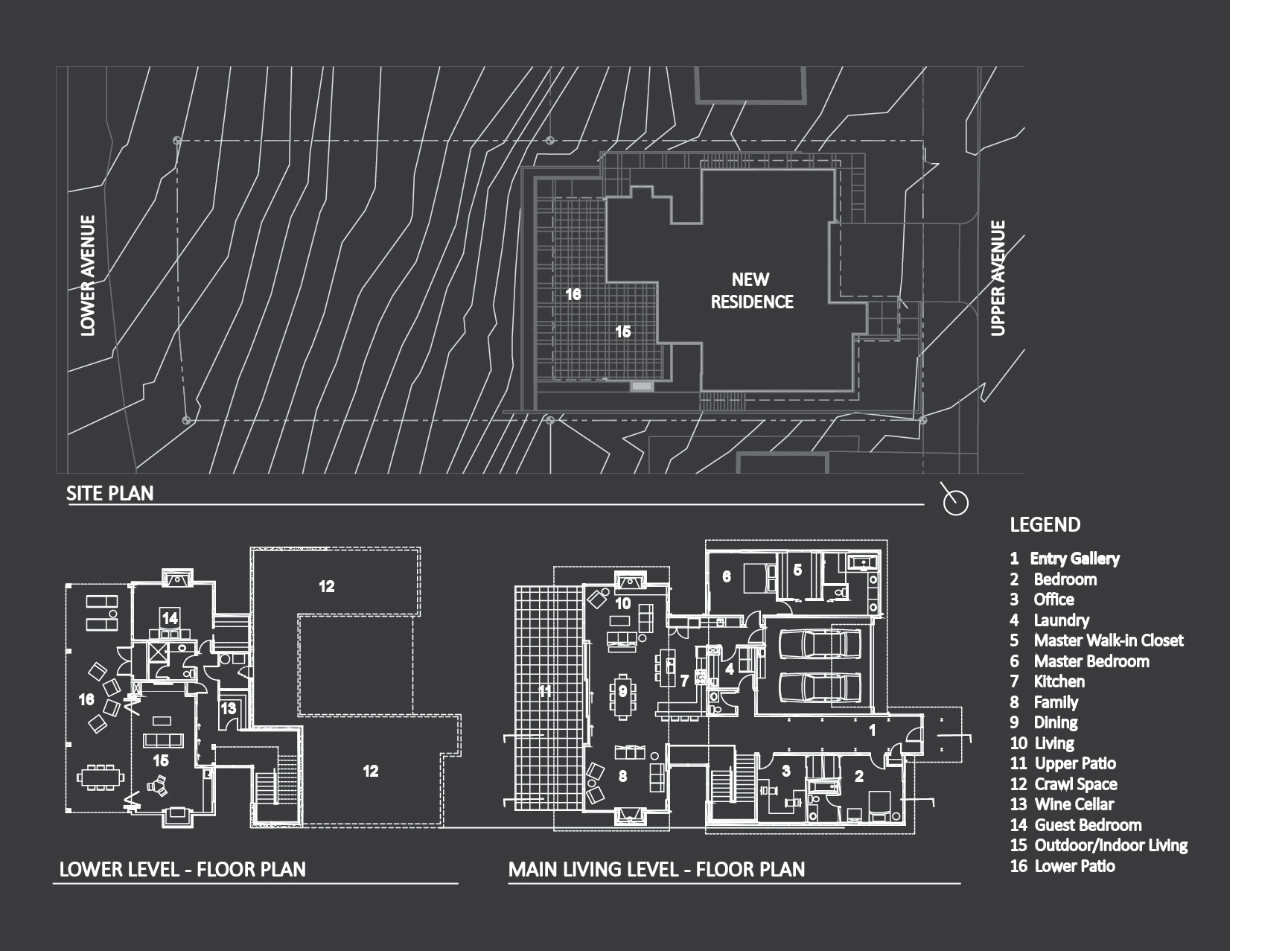 SITE PLAN AND FLOOR PLANS
SUSTAINABILITY STRATEGIES:
Natural ventilation and day-lighting to lower energy consumption; locally sourced materials – western red cedar, Douglas fir ceilings and soffits; water from roofs and driveways were captured and directed to on-site infiltration; super-insulated walls, roofs, and floors utilized spray foam insulation; and an energy efficient Mitsubishi heat pump forced air system.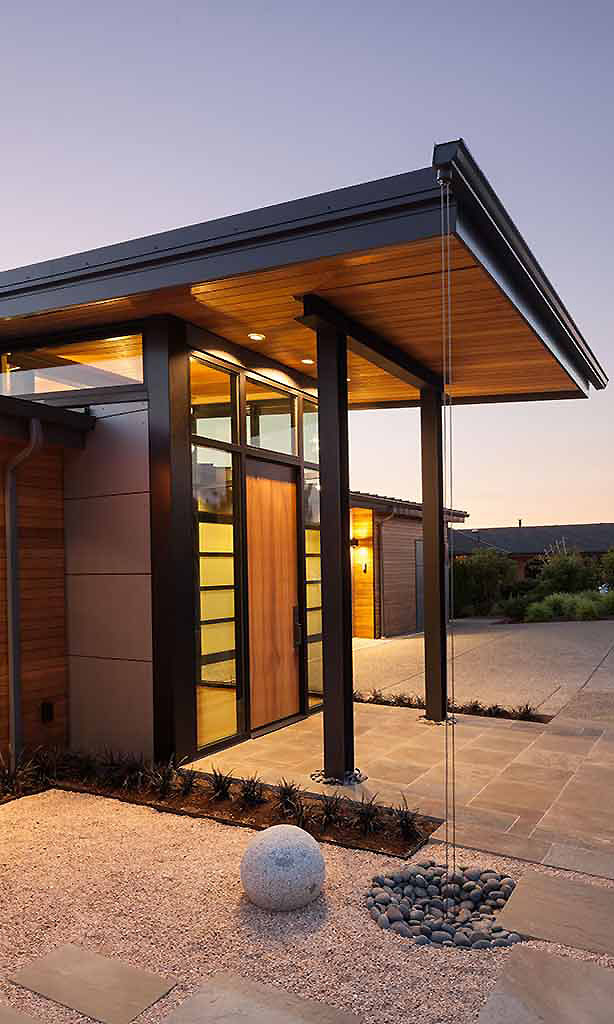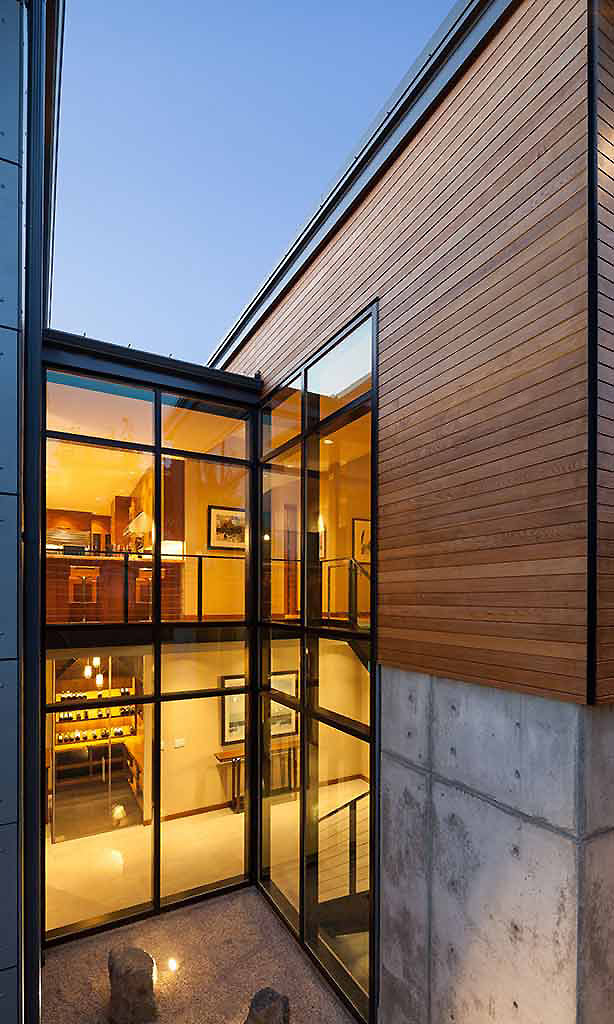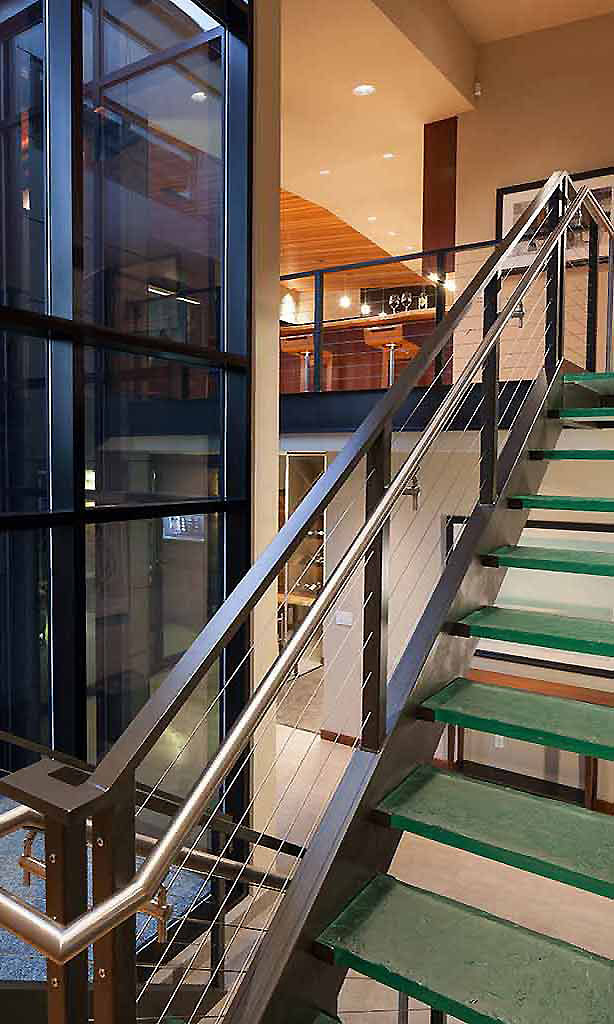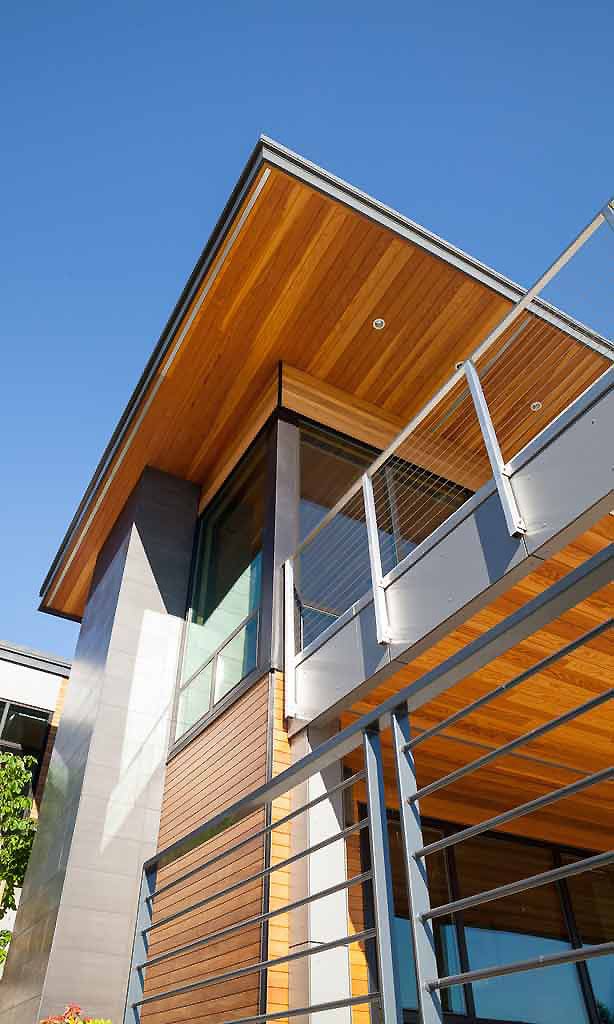 ENTRY CANOPY
Steel columns,  aluminum storefront windows, and Doug fir ceilings, and lighting all add to the warmth of this entry.
2 STORY GLASS ELEMENT
This two story glass window element provided a separation between two building forms;  this  allowed for sought after natural day light to penetrate the center portion of the home.
GLASS STAIR TREADS
The interior view inside the 2 story glass element where we strategically located the vertical circulation between floors.  The design of the stair incorporated steel channels, and artist slumped gren glass textured treads.
OVERHANG DETAIL
An overhang and rear deck detail where the transition of materials included: western red cedar siding, porcelian tile, aluminum storefront, sainless steel railing, and cementitious fiber panel siding.